23.06.2020
PROTECT YOUR HEALTH
Our top priority at Pine Beach Pakoštane is safety and wellbeing of our guests and our staff. We are closely monitoring any and all updates from the European Centre for Disease Prevention and Control on the Coronavirus in Croatia, the World Health Organization and the Croatian Public Health Institute In response to the COVID-19 pandemic, we have introduced following precautionary measures and have increased sanitary and hygienic measures.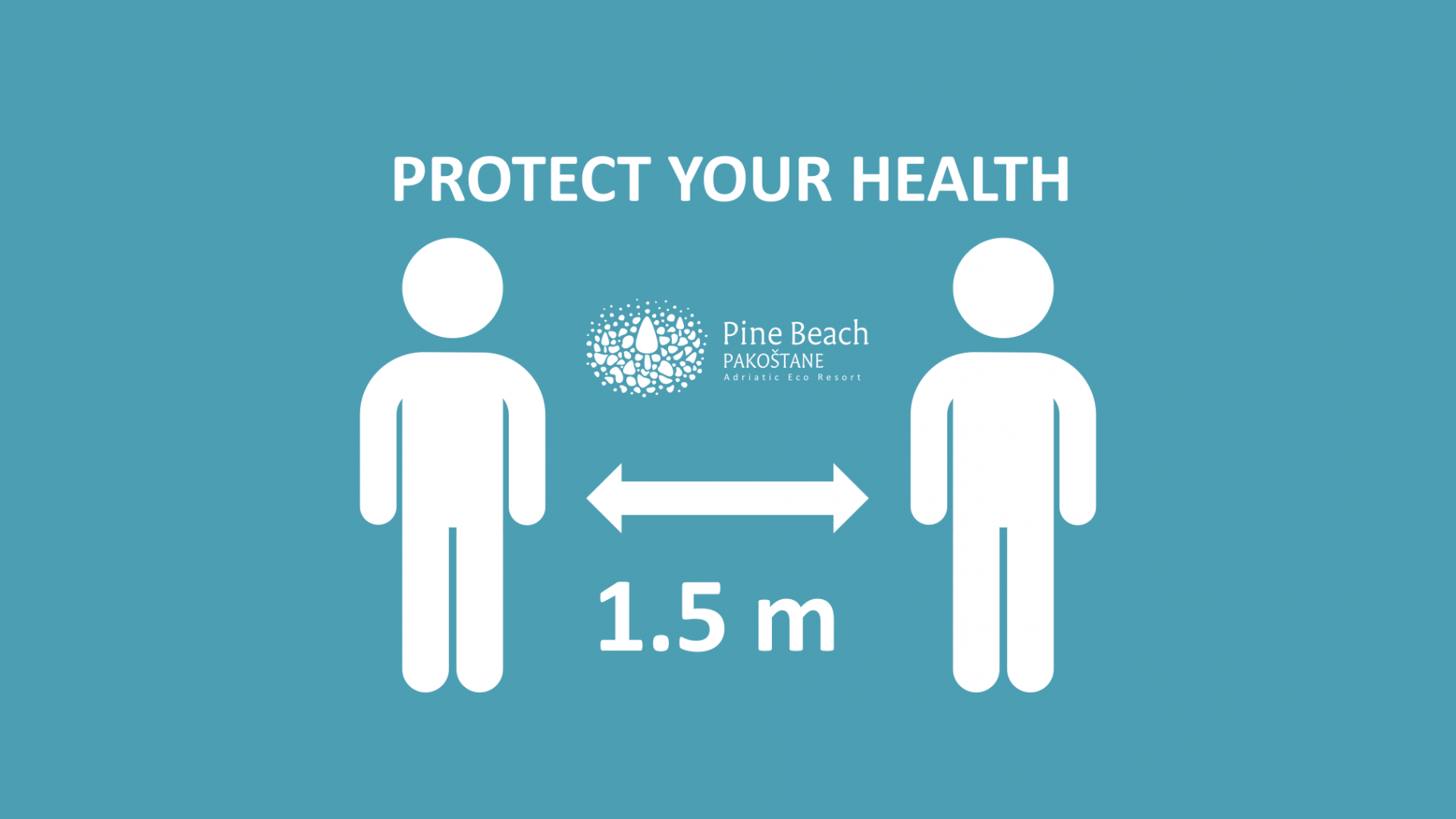 GENERAL
• Ensured designated space of 1,5 m between guests at the reception during check-in and re-arranged furniture to allow suitable space for social distancing throughout the property
• Signage and distance markers in place in key areas to remind guests on social distancing protocols and precautionary protocols
• Temperature check for all employees every day before work
• Use of personal protective equipment during interaction with guests (front office staff, restaurant staff, sports and animation team)
• Hand sanitizer stations installed throughout public areas at guests' high-contact points
• Enhanced sanitation procedures in all key resort areas
• Increased frequency of cleaning and disinfection of public areas (including restaurants and bars, restrooms, reception etc.)
• Frequent disinfection of handrails on chairs
• Heightened cleaning and sanitation protocols for shared restrooms
• COVID-19 awareness, education, and training of all employees
RECEPTION
• Automatized check-in using document scanners
• Protective glass on front desk counters
• Use of personal protective equipment during interaction with guests
ACCOMMODATION UNITS
• Enhanced cleaning and sanitation protocols in accommodation units focusing on high-touch points
• Change of linen and towels in guests' rooms on request only
• Extra blankets removed from guests' rooms and are available on request
FOOD AND BEVERAGE FACILITIES
• Food and beverage services have been adjusted in accordance with current safety recommendations
• Enhanced food safety and hygiene protocols
• At buffet service, guests will be served by staff at buffet stations
• Buffet stations will be protected with protective glass
• Restaurant/Bar seating allocated to safeguard social distancing
• Disinfection of buffet tables after each service
• Menus will be available in digital formats
• Daily deep disinfection of kitchen areas
SPORT AND ANIMATION
• All activities will be done in accordance with current safety recommendations as prescribed by Croatian Public Health Institute
• For all Animation and Sports activities, except for Mini Club and Sports Tournaments, guests are kindly asked to make reservation at the reception to assure safety measures (social distancing within number of people attending the activity)
• Disinfection of all used equipment will be made after usage
• Hand sanitizers will be available in each sports area
MASSAGE AREA
• Hand sanitizer will be available at the entrance
• Reservation at the reception is mandatory
• In between two treatments massage area will be disinfected and cleaned
• Use of sanitary masks within massage area is highly recommended for guests and mandatory for employees
BEACH AREA
• Beach chairs set-up in beach area rearranged to encourage social distancing protocols
• Increased frequency of cleaning and disinfection of beach areas
• Hand sanitizer stations installed in shared facilities

We will be updating the above measures in accordance with the changes with the COVID-19 situation and in accordance with Croatian Institute of Public Health guidelines.
All our employees and resort staff are familiar with all the prescribed procedures in this situation and are educated to provide information and help to our guests if needed.
We are closely monitoring the development of the situation and are ready to introduce any new measures that are necessary to keep our guests and employees safe and well.
In the meantime, we look forward to welcoming you back to Pine Beach Pakoštane in the coming months.