ACTIVE VACATION IN PINE BEACH
Enjoy more than 20 activities onsite
The great number of sports activities in Pine Beach offers an opportunity to spend a fun and active vacation, try new sports and learn new skills. For all of this, there are sports instructors and all the necessary equipment at your service.
Aerobic, Aqua aerobic, Step aerobic, Keep fit, Power workout, Power walking, Stretching, Pilates
Every day except Saturday, several times a day, you have the opportunity to spend an active and recreational holiday under the guidance of our experienced sports instructors. Enjoy relaxing in the peaceful Mediterranean ambience or move your body and exercise in the sea of our beautiful sandy bay.
Mini gym
Do not miss the opportunity to stay in shape during your holiday. Our gym is equipped with basic exercise equipment which is at your disposal under the supervision of our sports instructors. Our instructors will instruct you how to properly use the equipment and will put together a workout programme at your request. This is all included in the Pine Beach all-inclusive offer.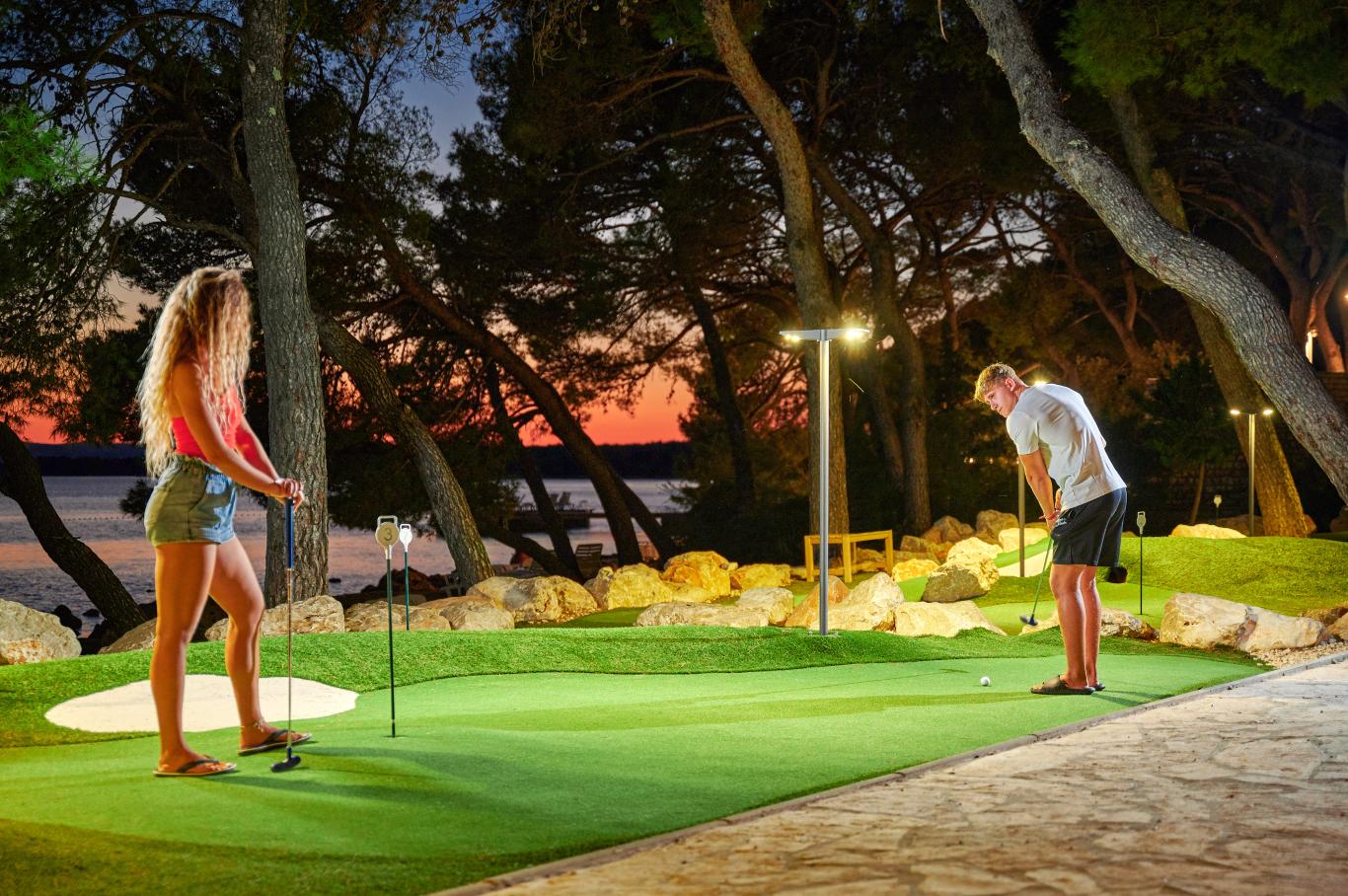 Mini golf
Mini golf at Pine Beach is a favourite family activity. Try your accuracy on nine different courses. The course is near the reception office and the main bar. You can ask for adult golf clubs and junior golf clubs at the reception. The course is at your disposal at all hours.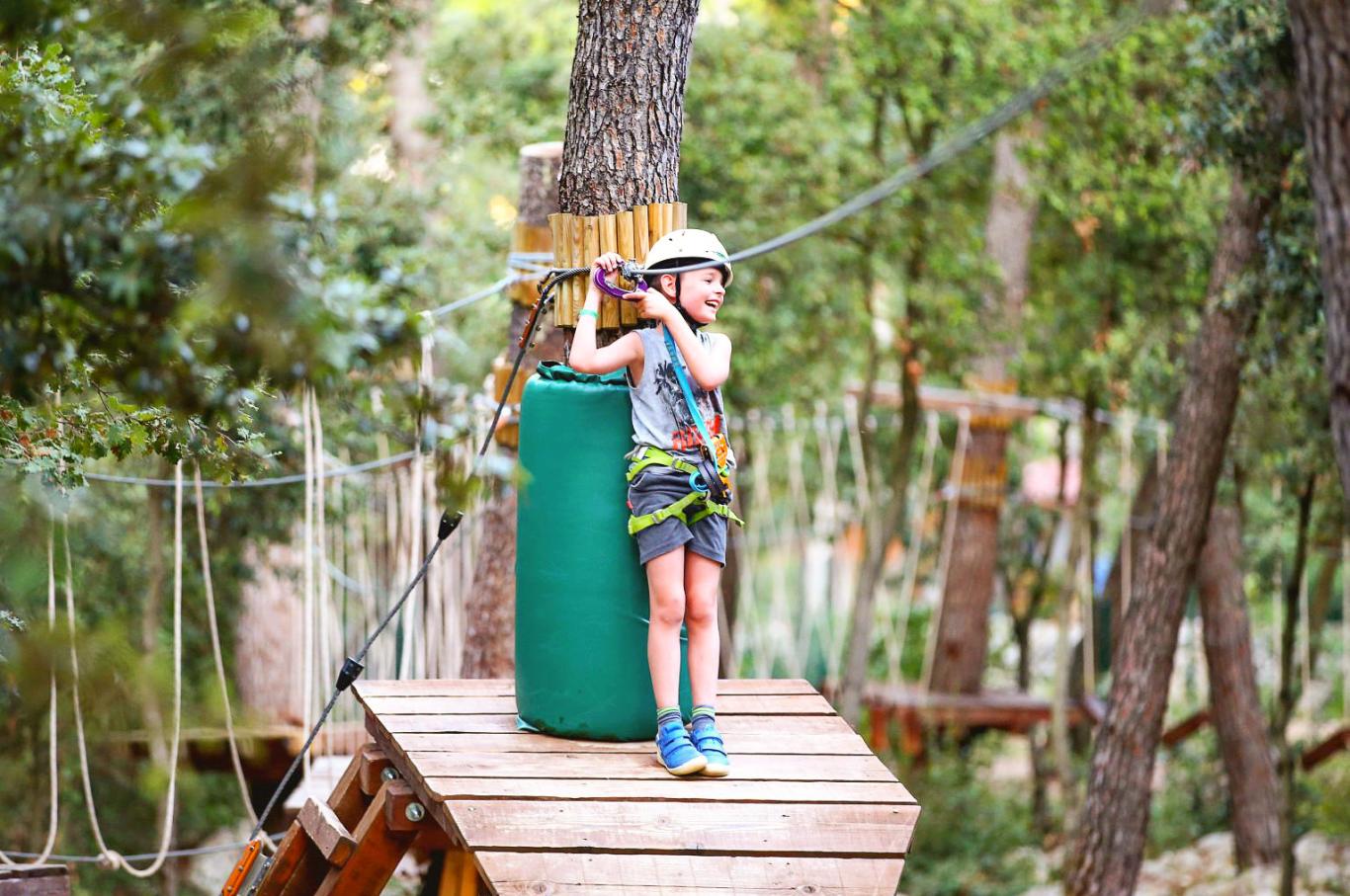 Rock climbing and Adventure Park
Rock climbing and the Adventure Park at the Pine Beach resort are a favourite attraction for our guests who want to try something different and exciting. This activity is available with a pre-booked appointment at the reception due to great interest. Children can use low elements in the park under parental supervision. Our sports instructors are here for you for your complete safety.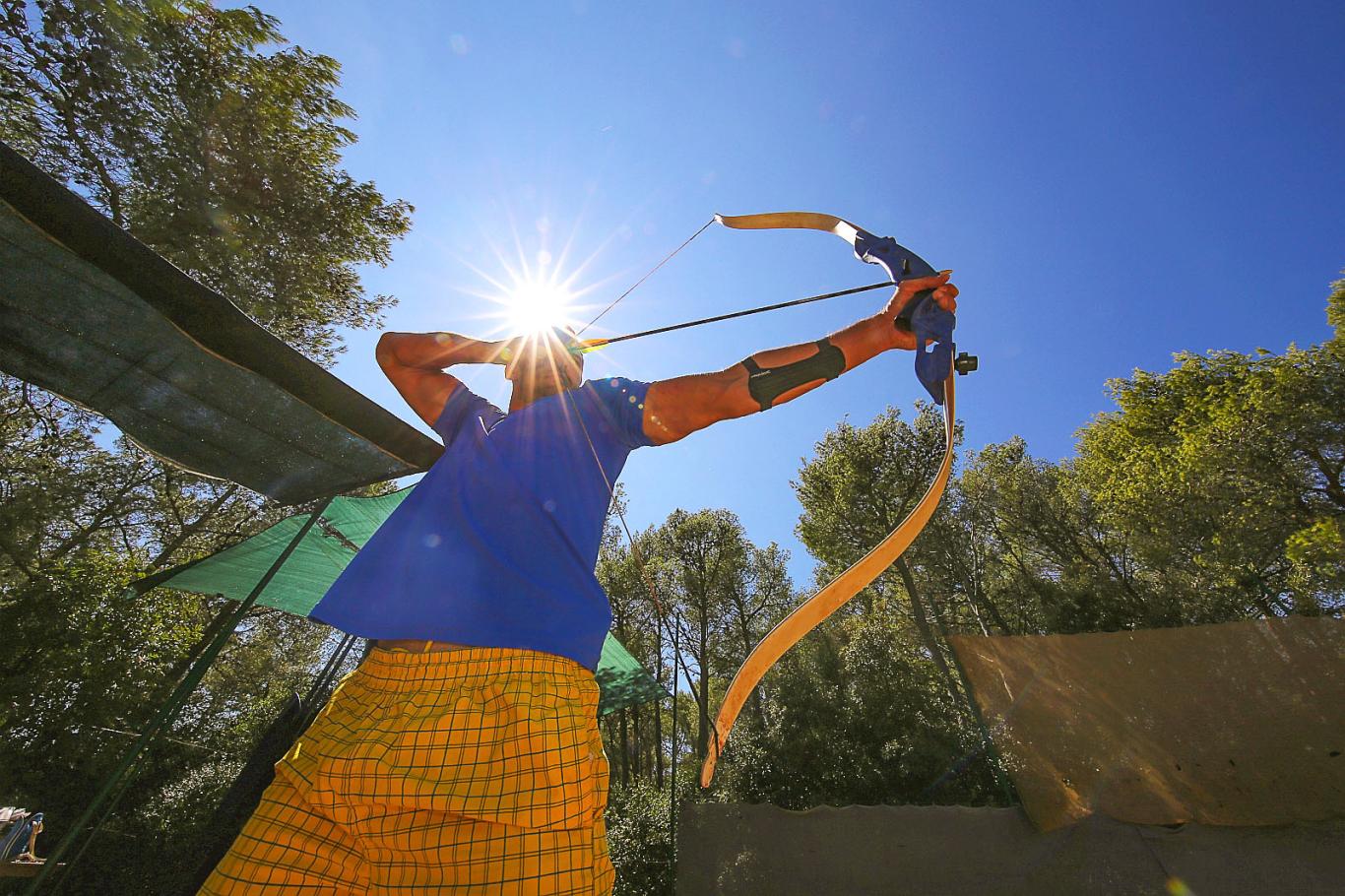 Archery
There is an archery court near the sandy beach. Our guests can enjoy this exotic sport under the supervision of our staff. Please observe the rules of conduct for safety and use the equipment carefully so that other guests can also test their accuracy.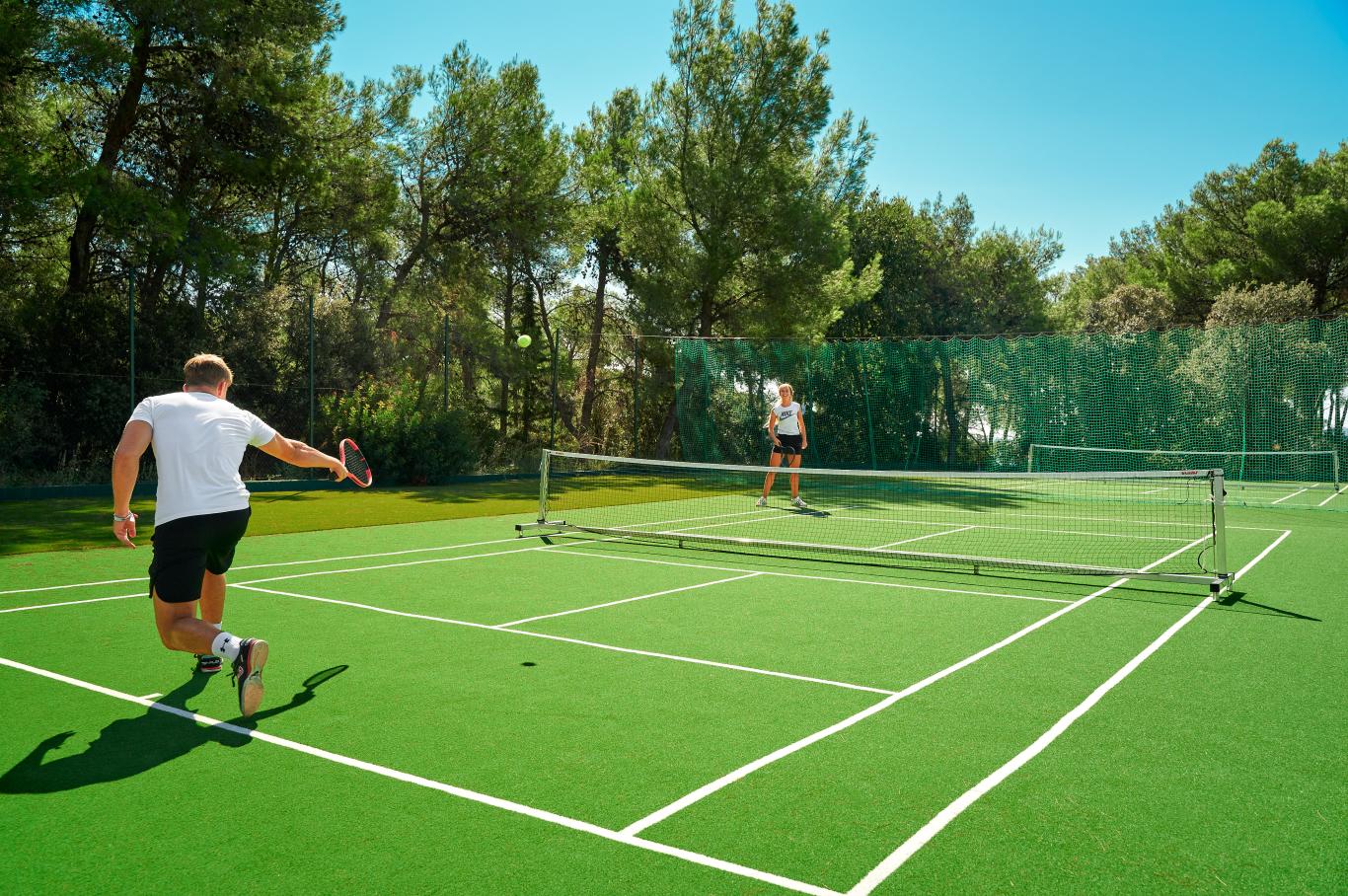 Tennis
Our seven tennis courts and tennis equipment are at your disposal during your whole stay. Four of the courts have an artificial turf surface and three have coloured surfaces. If it's too hot to play during the day, at Pine Beach you can also play at night under lights. If you want a few good tips on how to improve your game, there is a coach at your disposal who will offer his services with an additional payment.
Table tennis
Table tennis is a favourite activity at Pine Beach and it is suitable for all ages. The tables are near the reception and bar, and you can get the racquets at the reception for free. We kindly ask you to be careful when handling our sports equipment so that other guests can enjoy our activities.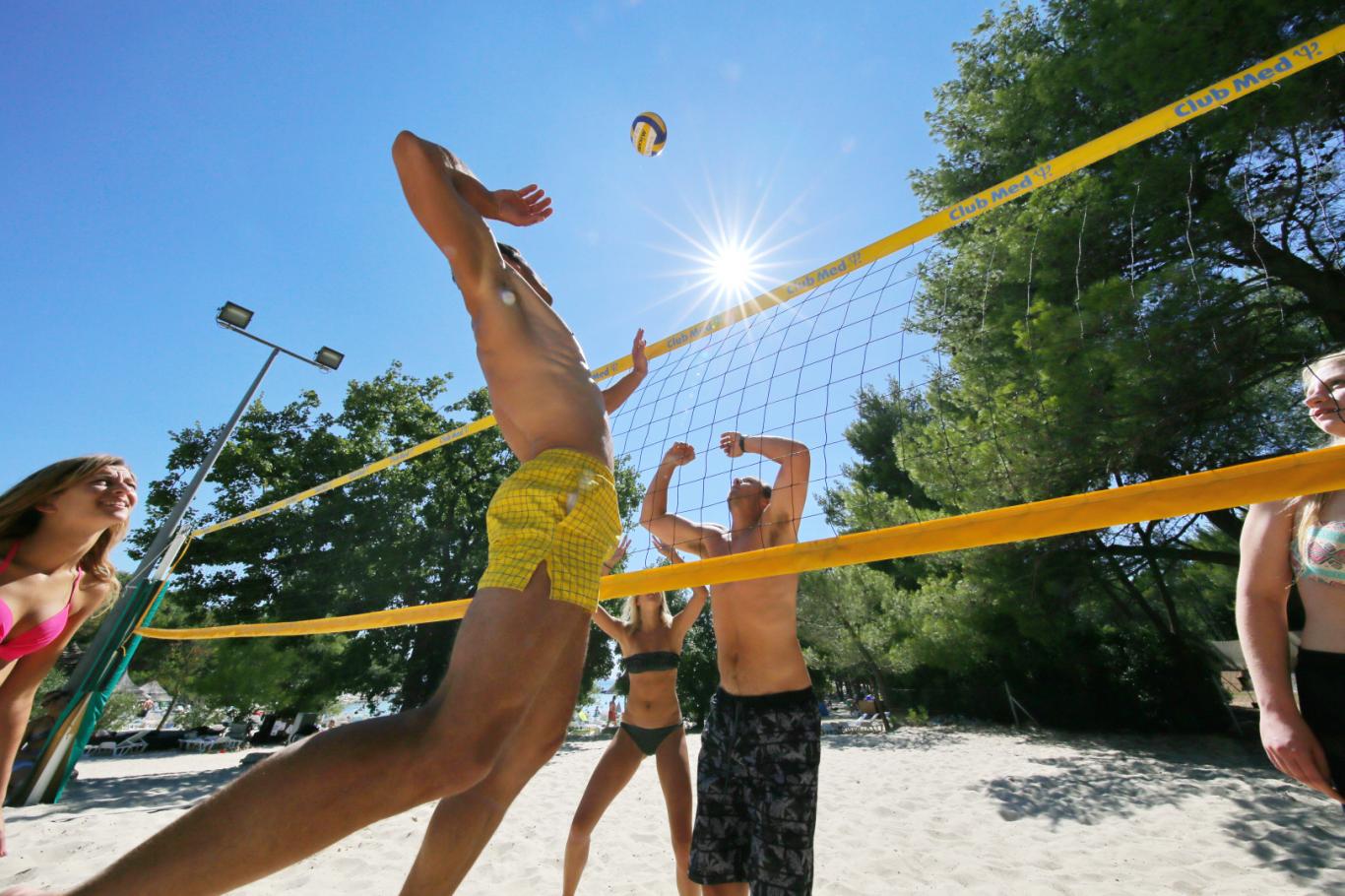 Beach volleyball
Try your hand at a real summer sport on the beach. You have at your disposal two sandy courts and you can get the balls at the reception. We often organise tournaments in the afternoon – a good time is guaranteed.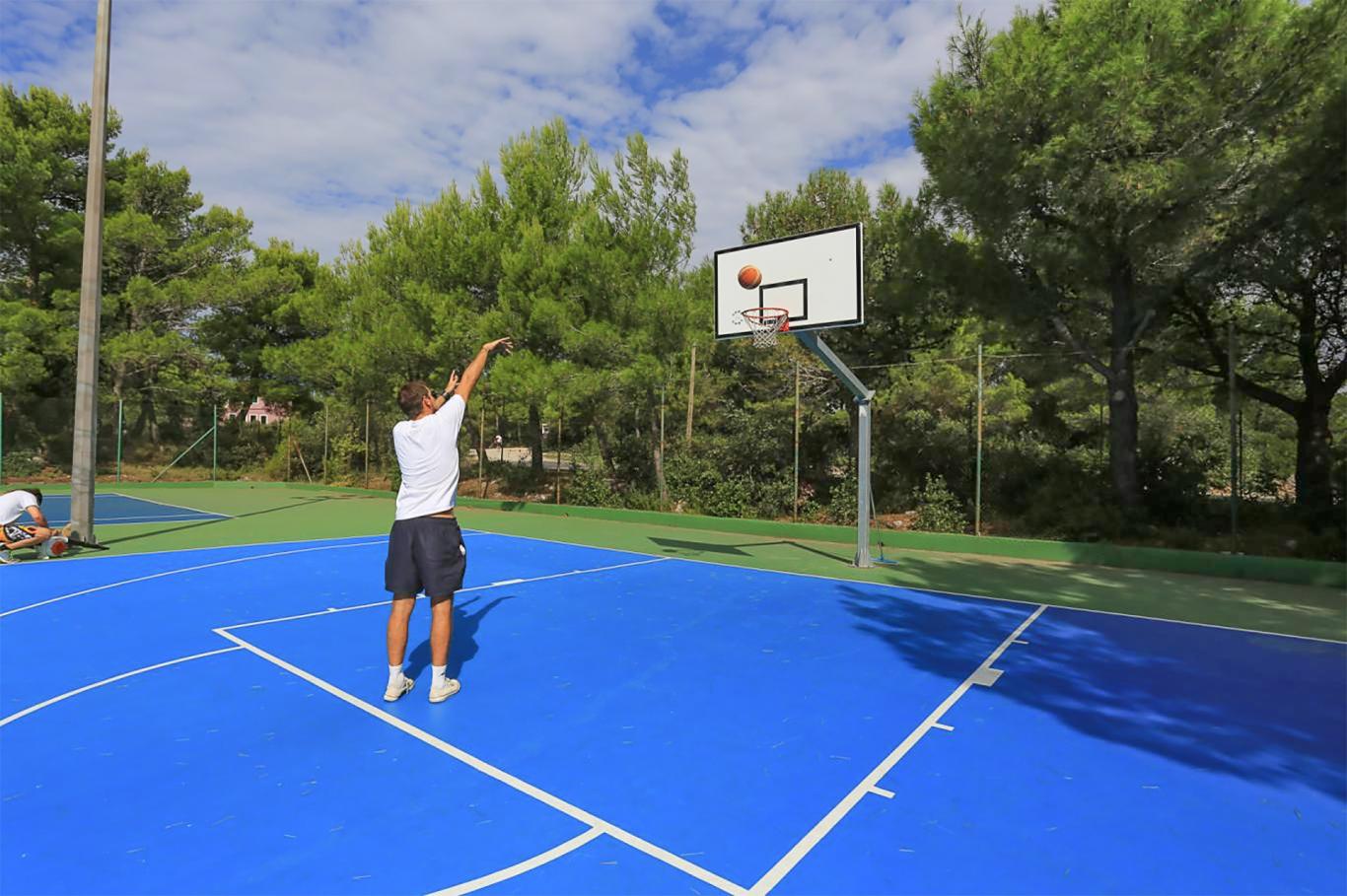 Basketball
A large court with two baskets is near the tennis courts and it is available to all of our guests. Not even the summer heat can stop true basketball fans in testing their skill under the hoop. After the game, a round of cold beers for all at our Jedro or Mareto bars is a must.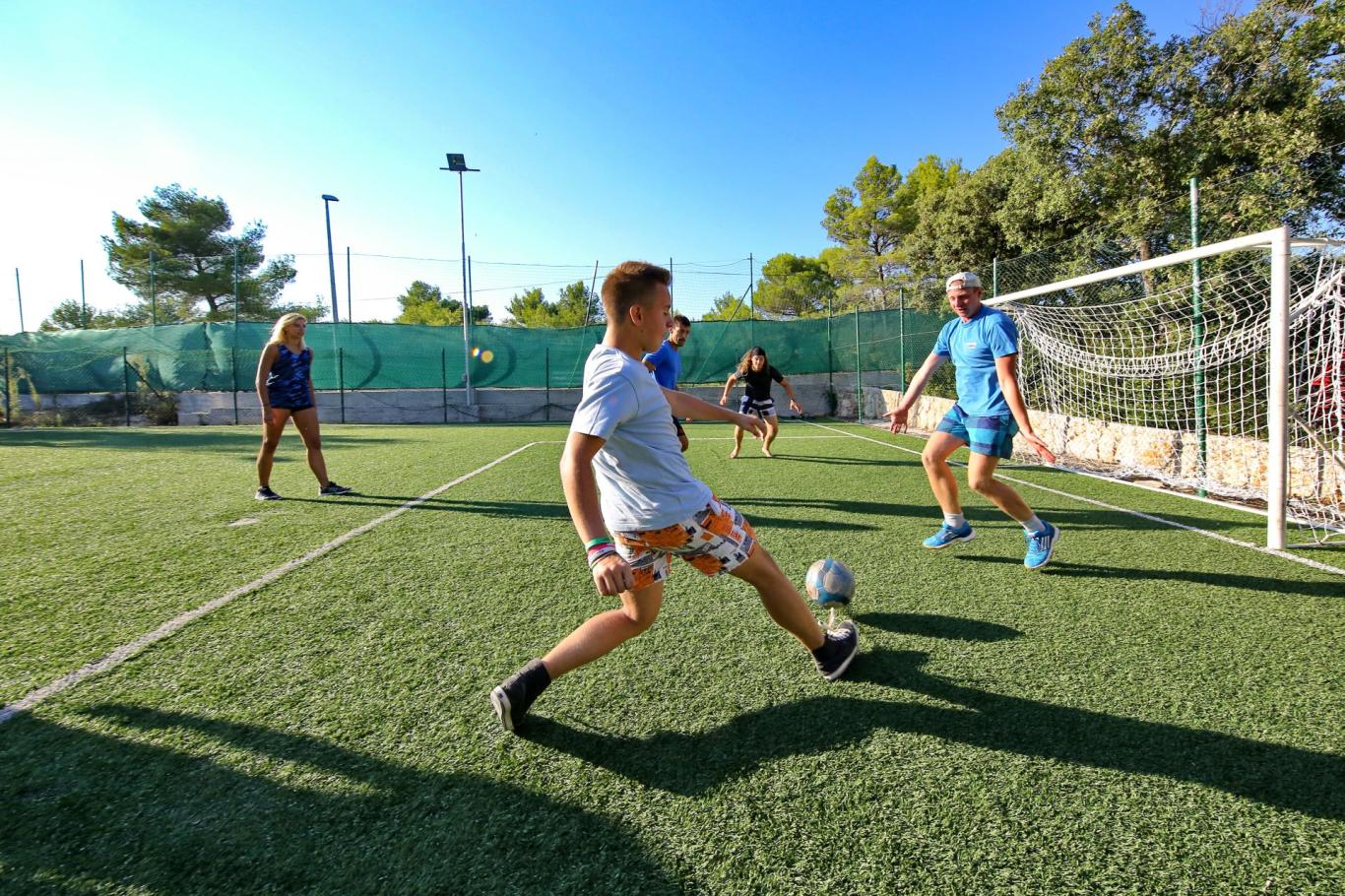 Futsal
The futsal pitch is near the sandy beach. The artificial turf surface will satisfy even the most demanding recreational players. Show your ball skills with a ball in a Pine Beach jersey. We expect football players of all ages.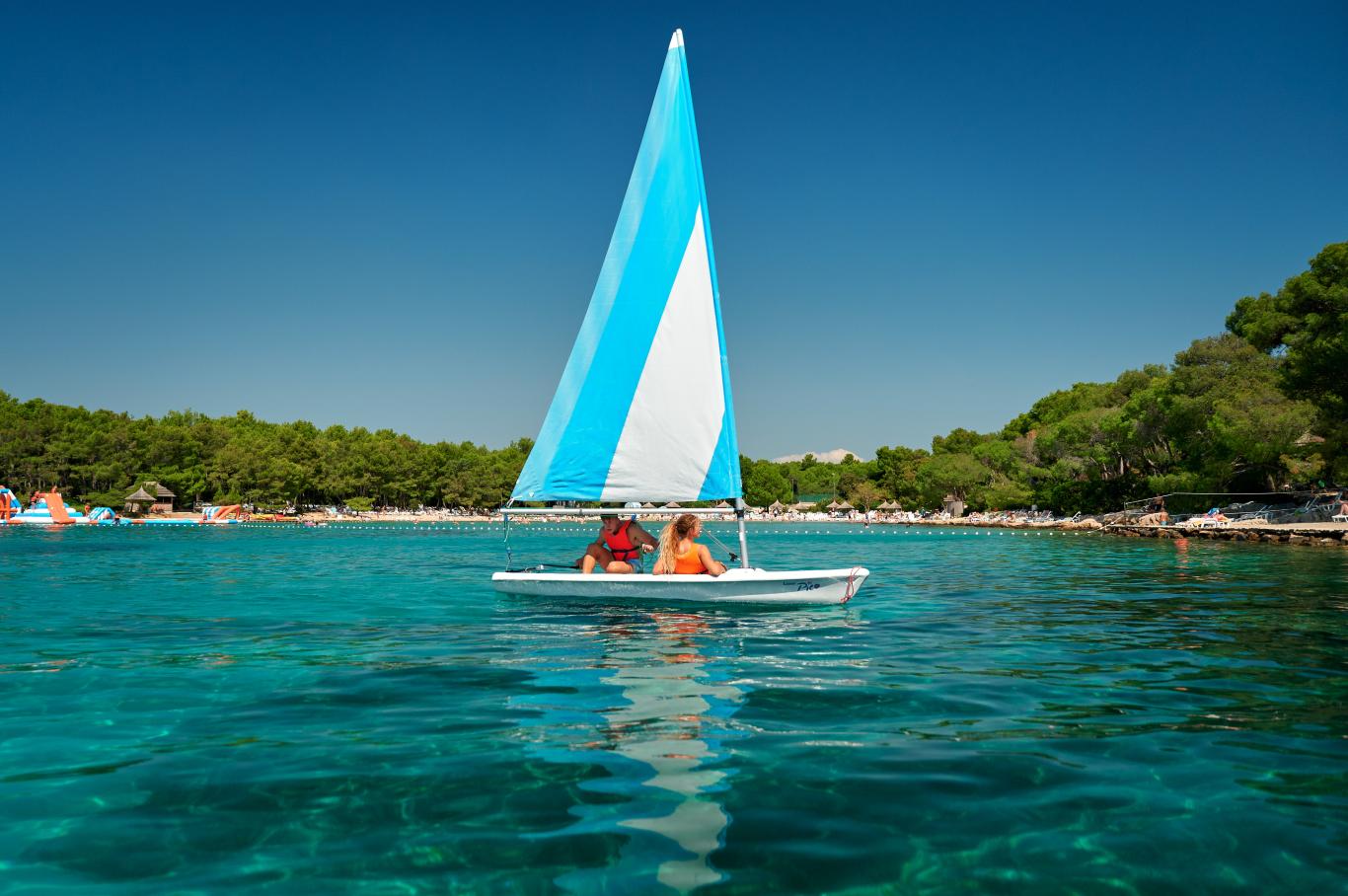 Sailing and windsurfing
The use of our sailing boats and windsurfing boards is possible during working hours and under supervision of our staff, every day except Saturday. Sailing is one of the unique activities that you have the opportunity to try during your holiday at Pine Beach. In order to use our equipment, you need to have basic knowledge and experience and if you haven't sailed before, an instructor will offer a course with an additional payment.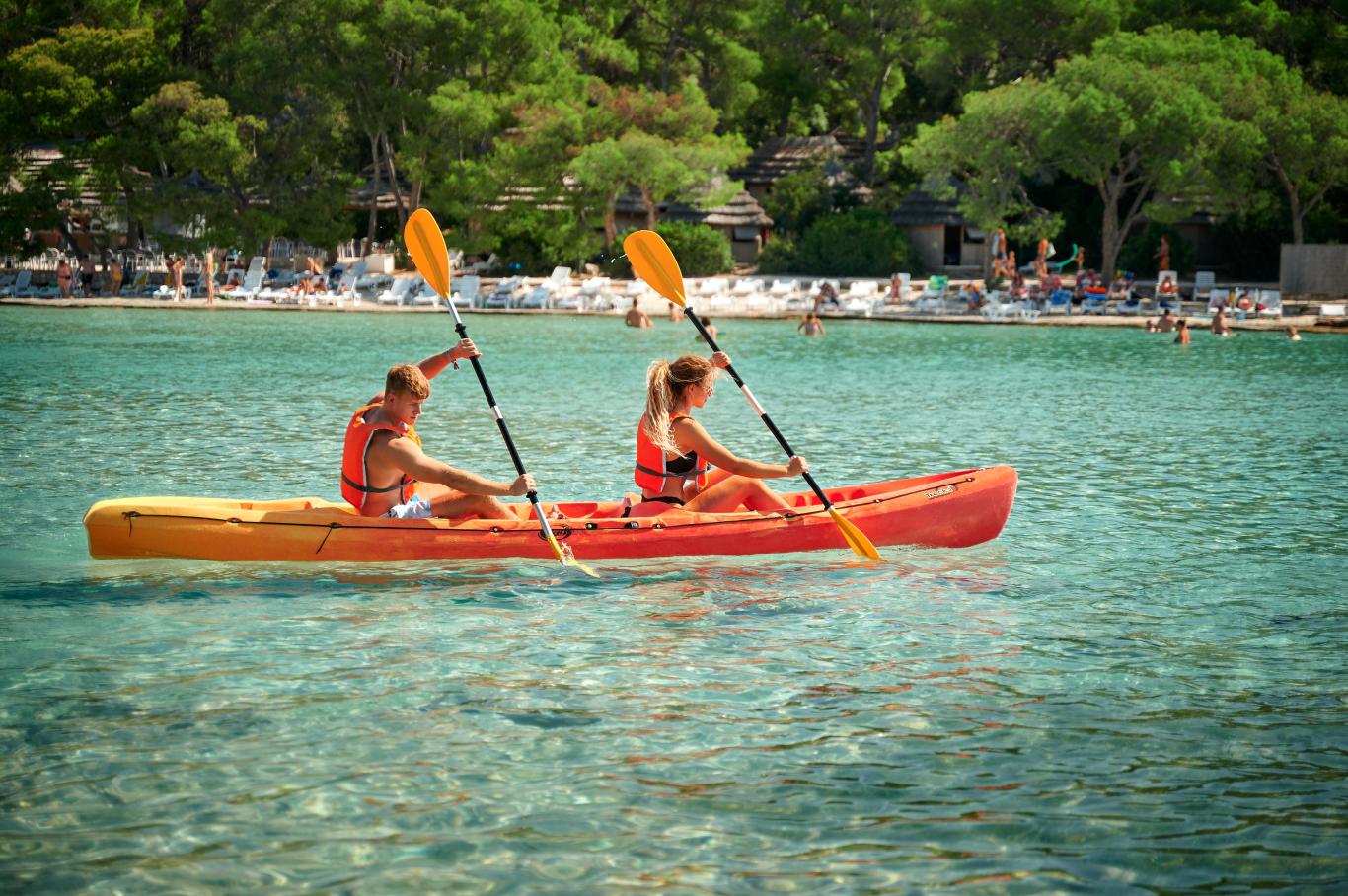 Kayaking
Kayaks for one and kayaks for two are at your disposal during working hours and under the supervision of our staff - row in pairs or individually. Simple and fun - an activity for the whole family. We kindly ask you that you don't move far too from the coast, that you wear life jackets and that you return to the coast during working hours.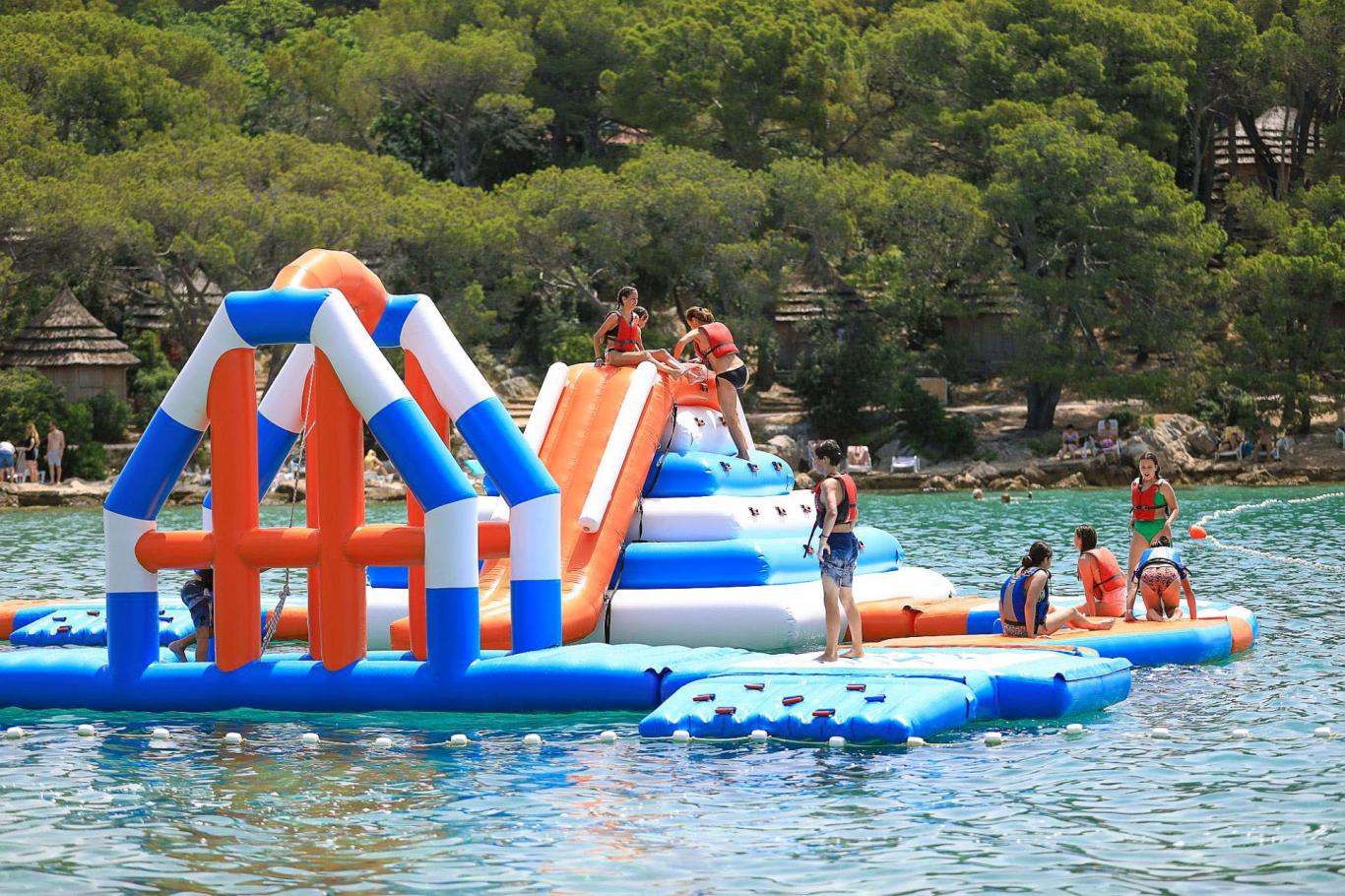 Water park
The Pine Beach water park is a playground at sea for our youngest guests. It is equipped with several floating, air-inflated elements which are free for use under the supervision of our staff and the mandatory wearing of life jackets.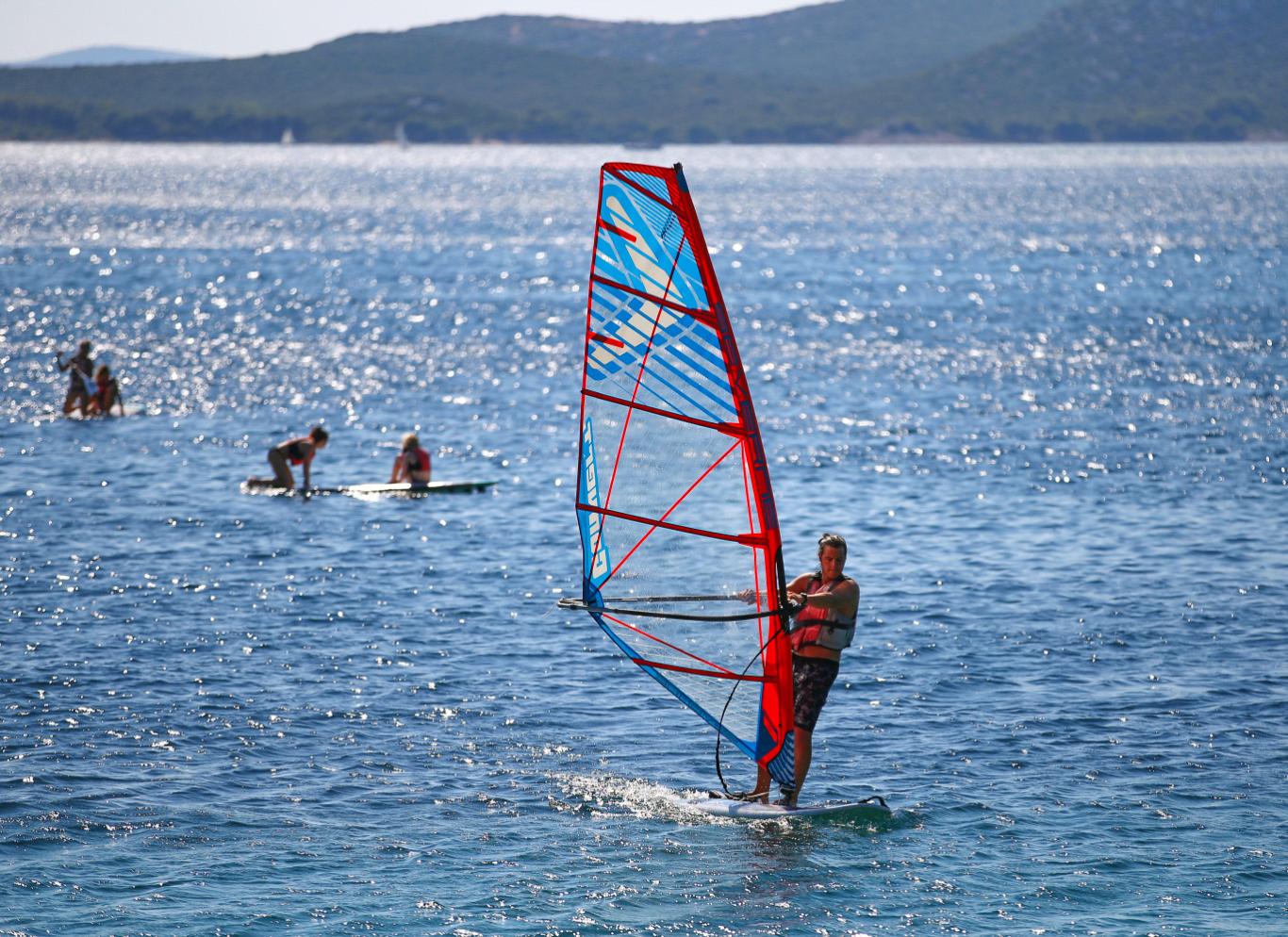 ALL INCLUSIVE
ADVENTURE PARK

AEROBIC

ARCHERY

BASKETBALL

DECK CHAIRS

ENTERTAINMENT

FOOTBALL

KAYAK

MINI CLUB

MINI GOLF

PARKING SPACE

RESTAURANT

SAILING

SMALL GYM

SUN UMBRELLA

TABLE TENNIS

TENNIS

VOLLEYBALL

WI-FI

WINDSURF